LIVED EXPERIENCES
Like Odundo, Nigoumi also has work in the British Museum. Interestingly he is not represented in their African gallery but in the 1900 to present day European gallery, although the work of both artists was made a few miles from each other in leafy Surrey. Both are exceptional artists, but we should analyse their use in museum strategies.  
Critic Jeremy Harding noted the way work by artists like Odundo (who was specially commissioned) are strategically placed at the entrance of the British Museum's African gallery to create the idea that all exhibits might be viewed in the same way, a clever way to decontextualise stolen sacred artefacts. To follow Harding's thinking, one might suspect in the Fitzwilliam that the portraits of Odundo in work apron and African headscarf have been carefully chosen to suggest authenticity. But what of the potters actually working in Africa, like the late Danlami Aliyu who returned home to Nigeria after studying at Farnham. His practice changed from producing Cardew-style stoneware to traditionally coiled earthenware, decorated with metallic car paint as he could no longer afford the fuel costs of high temperature firings. It is work that reflects the lived experience of modern Africa and has perhaps a closer connection to the historic work on display at the Fitzwilliam.
The return of cultural artefacts is contentious, extensively explored in academic journals and thoroughly covered by Prof Dan Hicks book The Brutish Museums. Some museums are attempting to disentangle their collections from colonial violence. They have legal constraints from doing what might be morally correct, but there are other ways to redress the balance. Magdalene Odundo in Cambridge might seem to be a personal indulgence, but it raises important social and cultural issues, perhaps inadvertently, of personal identity and cultural and national allegiance.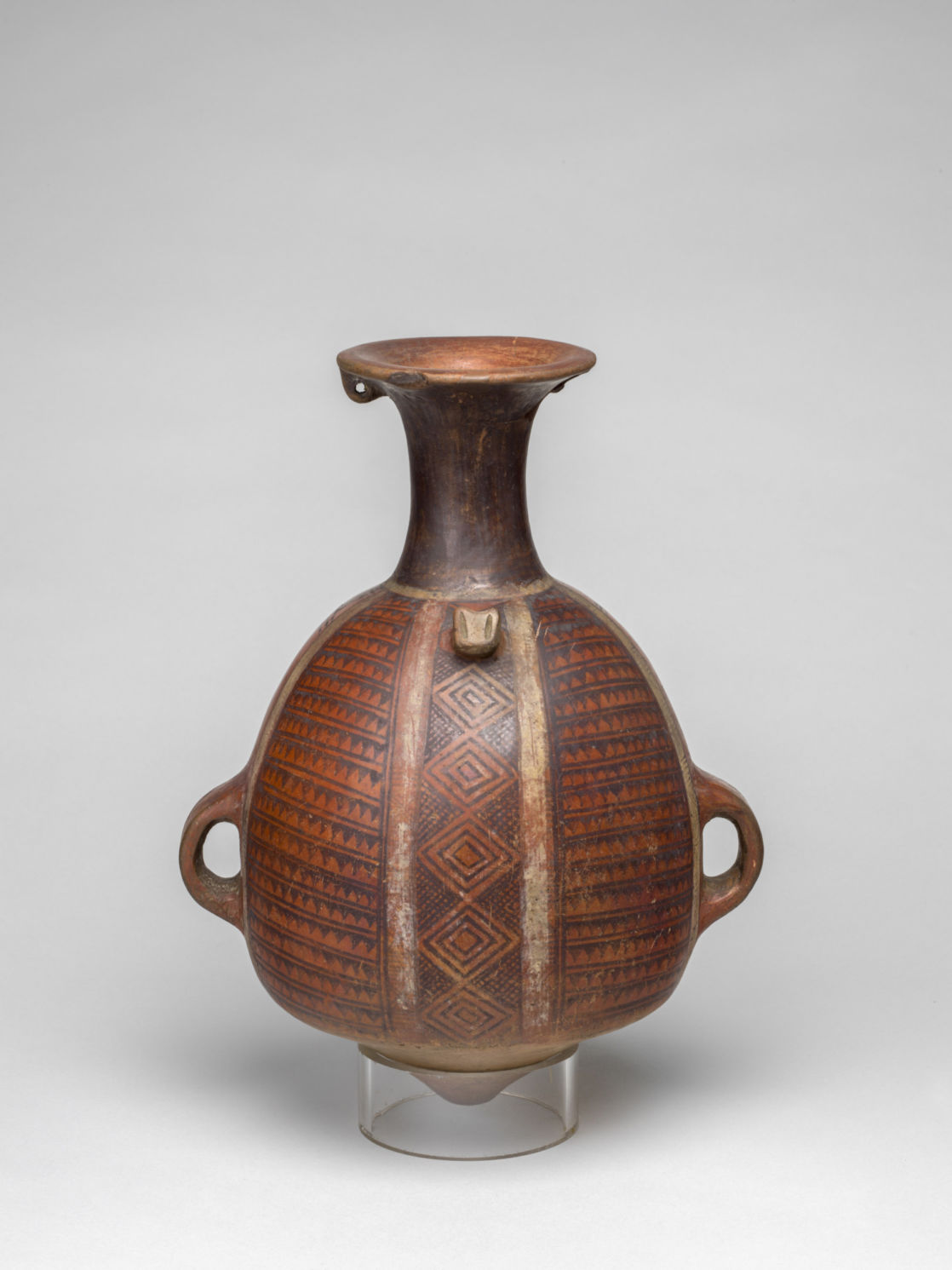 Aryballus of buff ware with front portion above the carination painted red, with geometric decoration in black of bands of triangles either side of a central panel which has a vertical row of diamonds interspersed with cross-hatching. Four narrow vertical bands of white serve as borders. Americas; South America; Peru 1476-1534 (Inca).