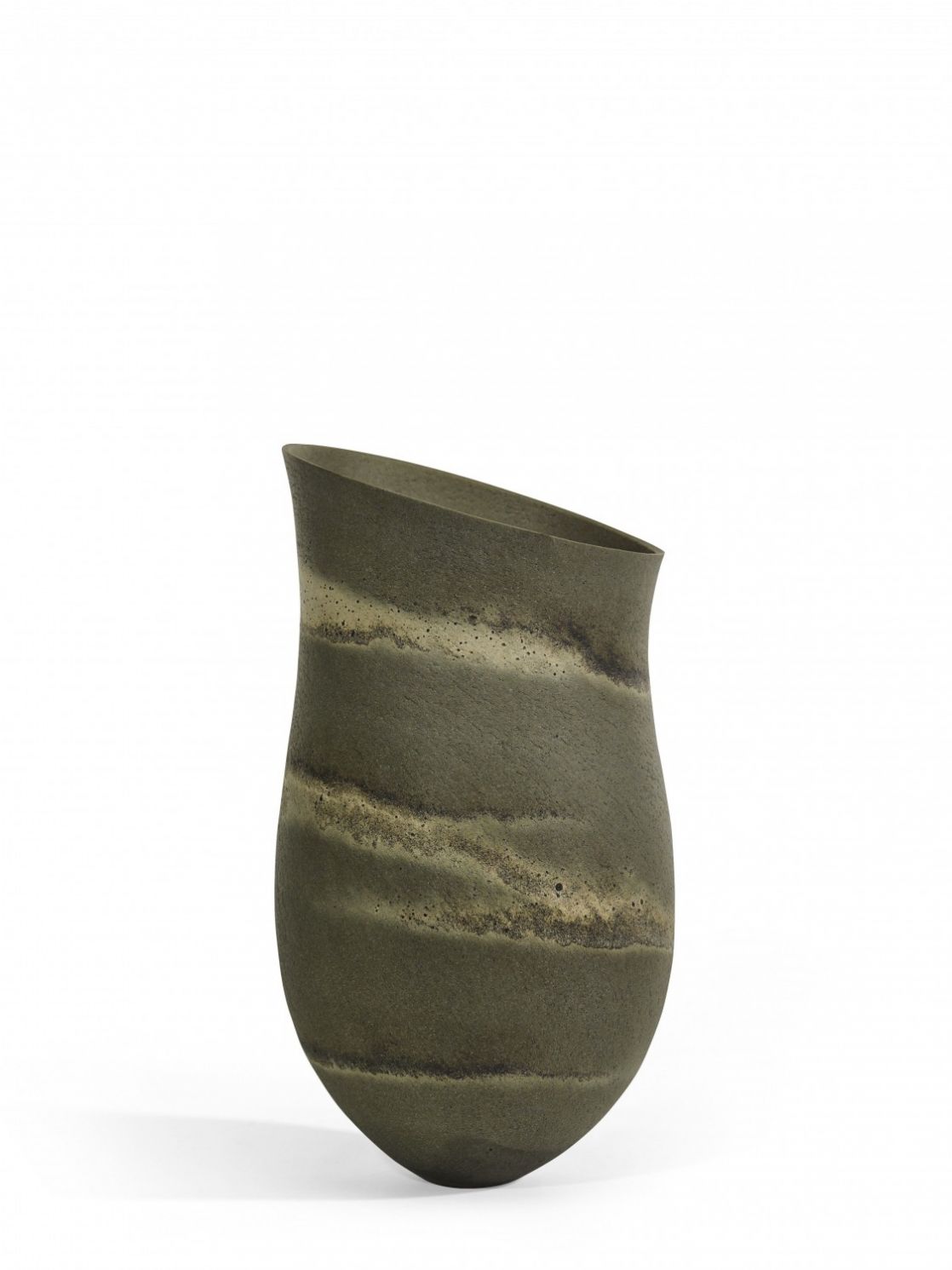 Jennifer Lee, Olive, dark haloes, speckled and amber bands, tilted rim, 1991. Photo courtesy Sotheby's
This year saw the reopening of Jim Ede's former home, Kettle's Yard, in Cambridge (Ed. note: see feature in CR 291). To celebrate this fantastic redevelopment and the preservation of 'the home of Modern British Art', Sotheby's recent Made in Britain sale looked at Ede's inf luence on the art scene here in Britain, including the relationship between the so-called 'fine' and 'applied' arts.
Following a career as curator at the Tate, Ede, together with his wife Helen, moved to Kettle's Yard in 1956. In the restored 18th-century cottages, the couple showcased works by leading names in the contemporary art scene: paintings and sculpture by Ben Nicholson, Henry Moore, Barbara Hepworth and Naum Gabo, alongside ceramics by Lucie Rie, Bernard Leach and William Staite Murray. In 1928 Ede wrote: 'Pottery is midway between sculpture and painting… It is the art of suggestion with the utmost economy.'
If a Hepworth sculpture can sell for a six-figure sum, why shouldn't a pot?
Ede's approach to the interdisciplinary nature of the British arts scene was a driving force behind the inception of the Made in Britain sales at Sotheby's, which began in 2014. They are now a popular biannual feature on the sales calendar in March and September. The auctions feature paintings, works on paper, prints, sculpture, furniture, photography and, of course, contemporary and studio ceramics. They have opened up this particular field to a whole new body of collectors. In these sales, ceramics are shown and celebrated alongside sculpture by key figures from the period, such as Moore and Hepworth, and in that context, not only stand their artistic ground but are, commercially speaking, great value for money. If a Hepworth sculpture can sell for a six-figure sum, why shouldn't a pot?