11 Mar - 22 Apr
A solo exhibition of work by the winner of the Mark Tanner Sculpture Award 2022 is coming to Cross Lane Projects, Kendal this Spring.
'Genetic Material' presents a series of interrelated sculptures developed over the past year by Rosie Edwards (b.1981 Oxford, UK), the 19th recipient of the major UK Award.
Assembled playfully like children's toys across Cross Lane Projects, Edwards' brightly coloured sculptures emerge from a process of 'physical thinking' with found objects and re-purposed materials.
Prompted by an instinct to invert the logical, Edwards' sculptures animate and denature the formal language of minimalism. Destabilising the rigid formality of the grid, whilst compounding qualities of hard and soft, sculpture and textile.
Geometric shapes are constructed from various lo-tech, homespun armatures: riveted steel fixing band; sprung steel gleaned from pop-up laundry baskets; and steel mesh tubing with crocheted nodes. They are squashed, folded and extruded before being fixed into shape with traditional sculpting materials. The resulting structures become empathetic beings that retain the imprint of the body or the impact of an action. The tactility and resilience of these initially malleable structures portray a moment of transformation, as if capturing a substance changing state or a building in its first moment of collapse. Other forms are created from the inside out: accumulations of balls stuffed inside found 'skins' inflated with expanding foam. These basic building methods result in forms suggestive of protein structures, molecules, or cells dividing. They scramble scale and, like molecular models, have the ability to speak of things that are
simultaneously very small and very large.
Coloured twine coats the surface of several elements in an optic pattern, creating a sense of transformation occurring within. The optical surface pattern has a quiet but persistent pulse, the effect of which is slightly disturbing, alien, uncanny. Their whirring energy creates the sense there is something you have forgotten; it is not clear if their presence is malignant or benign.
Redundant domestic items including plate racks, coat hangers and laundry baskets can be found interspersed throughout the exhibition. Formed slightly off kilter they are imbued with a questionable stability, holding within them the collective anxiety of our time.
Through necessity of space in the artist's studio, works are stacked on top of each other, moved around and constantly reconfigured. Objects at the bottom have little choice but to serve as plinths for the more transient upper layers. This constant scrambling of position allows the potential for unconscious discourse between elements. These objects, elusive beings of unclear status, eventually find their niche. Like fish in a coral reef, coupling occurs and things slowly acquire 'settled status'.
The MTSA is one of the most significant awards for emerging UK artists working in the field of sculpture. It seeks to reward outstanding and innovative practice, with a particular interest in work that demonstrates a commitment to process, or sensitivity to material. Edwards was selected from over 240 applicants from across the UK by a panel comprising: Eva Rothschild RA; Lewis Gilbert, associate curator at New Art Centre; Rebecca Scott, director at Cross Lane Projects and Mark Tanner Trust; and Dean Kenning, MTSA winner 2020-21.
The gallery is open Wednesday - Saturday, 12pm - 5pm
Free Entry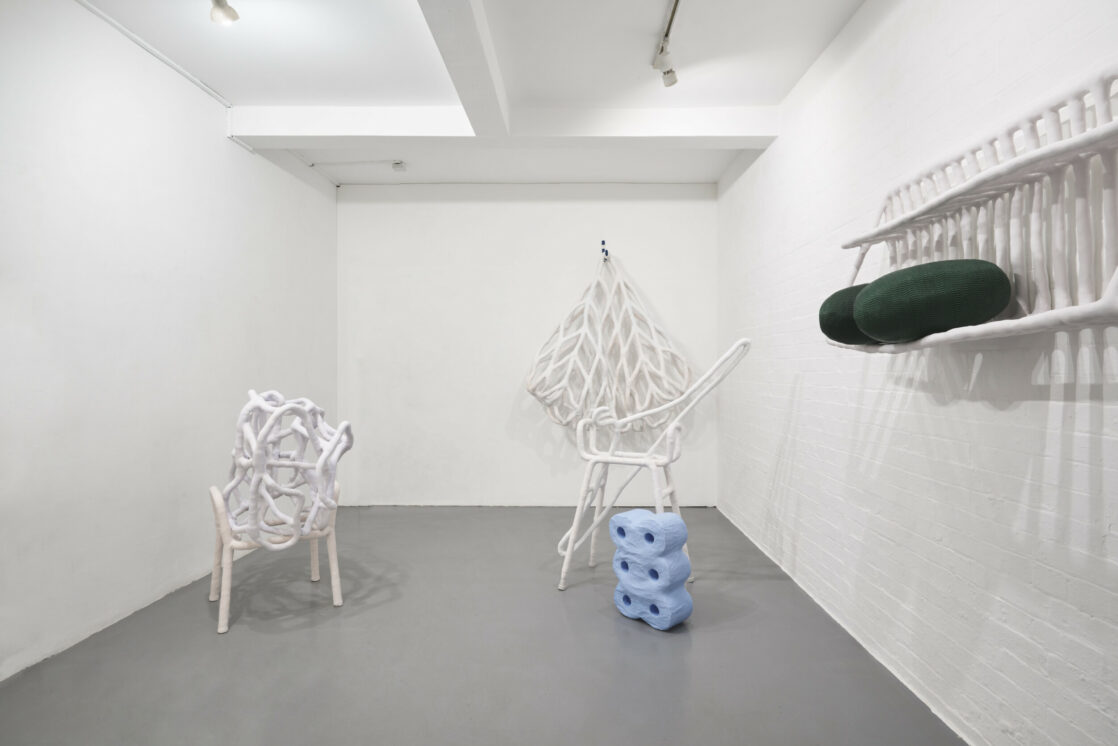 ---