15 Jun - 26 Jun
Transformations showcases works by the Society of Designer Craftsmen in a selling exhibition at Bankside Gallery on 48 Hopton Street London SE1 9JH from 15th until 26th June 2022, open every day from 11am until 6pm.
The Voice of Craft since 1887, the Society of Designer Craftsmen upholds the traditions of founders Walter Crane and William Morris whilst continuing their quest for excellence and offering collectors, unique works to cherish. It is proud to have as members some of the finest and respected designer makers of today. The Society continues to promote and support the work of creative thinkers, designers and makers who innovate through the exploration of materials and perfecting of skills in their own fields.
Transformations offers a rare opportunity to view such a diverse range of original work created in textile, ceramic, glass, wood, paper, stone, base and precious metals at Bankside Gallery. These pieces illustrate how a skilled designer craftsman can magically transform a basic material into an object of desire. Over 100 members of the Society of Designer Craftsman will reveal how they uphold the tradition of their craft, while continuing to break boundaries in both design and technology.
A feature display will show signature pieces by selected Honorary Fellows of the Society, all renowned makers including Natalie D'Arbeloff, Melanie Guy, Alice Kettle, Peter Layton, Heidi Lichterman, John Makepeace, John Plater and Jeanne Werge-Hartley.
Transformations offers collectors the opportunity to handle pieces, meet some of the makers, buy or commission a work to enhance their interior, be it traditional or more contemporary. Discover the tactile nature of ceramic, wood and metal, the luminosity of glass, and stone, together with the versatility of textile and paper, transformed into works of art and objects to be used.
Dr Hazel Connors MSDC, Trustee and Exhibition Director of the Society of Designer Craftsmen says: "I never cease to be amazed at the magic our members possess in creating ingenious works from such simple materials. The prospect of exhibiting at Transformations has inspired many to produce new pieces which we are delighted to exhibit for the first time at Bankside Gallery. Alchemy does exist after all."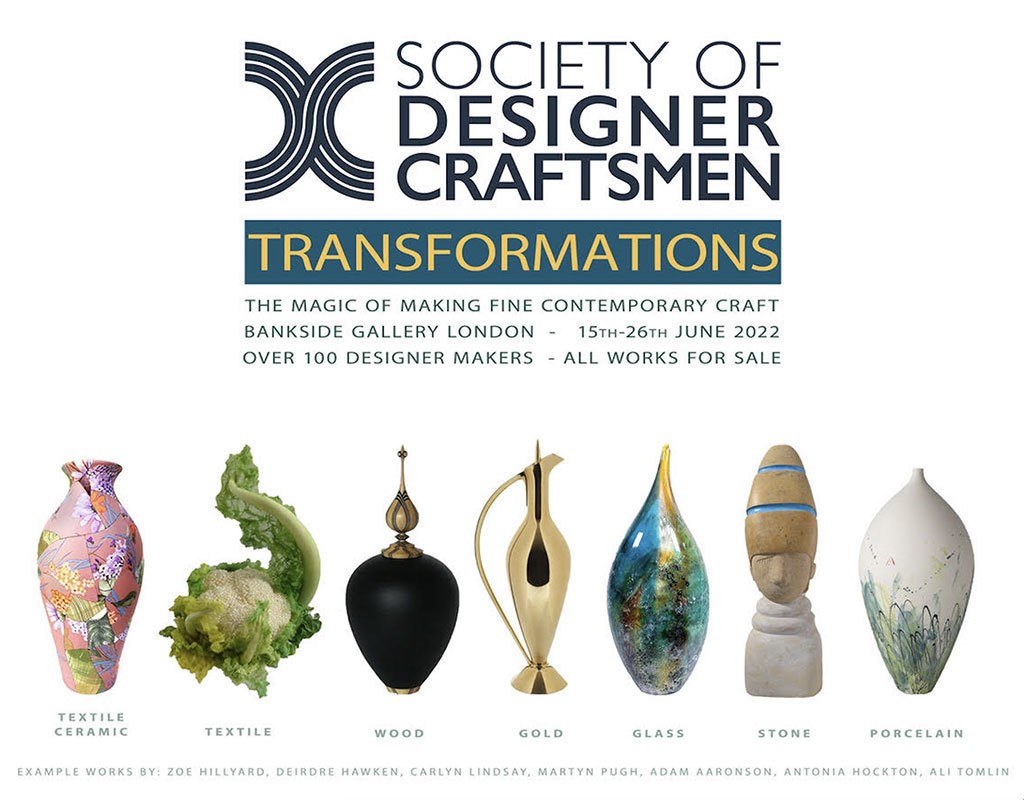 ---